Sports Arbitrage
What is Sports Arbitrage Betting?
Sports Arbitrage (arb) - means to bet on all possible outcomes and win no matter the result of the game. For a short interval of time two or more competing bookmakers have such odds for an event where if we do some calculations we could take advantage of the odds differential and get sure profit by covering all possible results of the game. Luckily, we don't have to find these situations manually and we don't have to calculate anything. For this purpose, there is our software that scans more than 60 bookmakers each second and finds the arbitrage opportunities for you. All you need to do is to decide what total stakes you could afford to place. As higher your bankroll is as higher profit you will make. Sports arbitrage has evolved from small business to massive money-maker tool with more than 20% return on investment each month.
Now let's take a closer look at how it works and pay attention to the tricky parts in this investment.
Arb example
In the example below from our web app we need to bet that Armenia will win in 1xbet and that the result will be draw or Liechtenstein will win in BetVictor. This is surebet with two outcomes.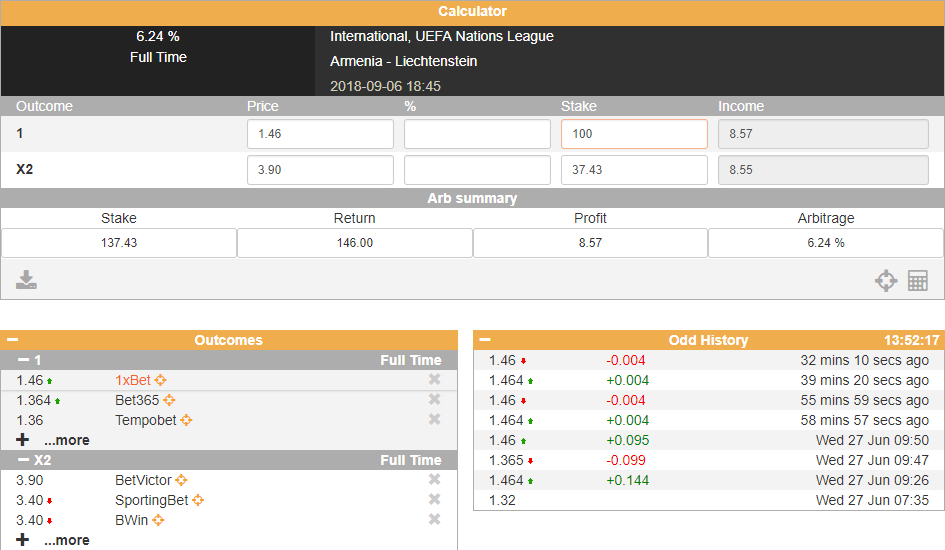 Outcomes:
1) If Armenia wins the match, we will win 1.46*100 = 146 Euros. But at the same time, we will lose our bet in BetVictor for 37.43 Euros. So our final profit is 146 - 100 - 37.43 = 8.57 Euros.
2) If the result is draw or Liechtenstein wins the match, we will win 3.90*37.43 = 145.98 Euros. But at the same time, we will lose our bet in 1xbet for 100 Euros. So our final profit is 145.98 - 100 - 37.43 = 8.55 Euros.
Conclusion - As you could see we will win no matter the result of the match! This is the power of our services that will be in your hands and the best tool to finally beat the bookmakers.
What is the monthly profit?
The monthly profit depends on many factors and there isn't a strict formula for it that could be the same for everyone but here is the information you need to calculate it for yourself.
Are you betting on PreMatch or Live? - If you bet in Live events you could place bets more often because your investment is returning almost instantly and you don't need huge bankroll to distribute it between the bookmakers. If you bet on PreMatch you will have to wait for the event to end to gather your profit. This could take hours or days and for that reason, you need bigger bankroll compared with Live betting.
How big stakes do you place? - It is logical that as more money you bet as bigger profit you will get.
How often do you bet? - Spending 2-3 hours a day is totally enough to make a good profit. But if you could afford to spend more time on placing arbs the chance to make a bigger profit also increases.
What is your bankroll? - you need big enough starting bankroll to distribute your money between the bookmakers in order to have enough amount to cover the outcomes. As mentioned before you need to have enough money in all bookmakers to place at least few arbs before the money in one of the bookies ends or you are stuck in waiting for the event to finish to gather your incomes.
Conclusion - The average profit per month for PreMatch betting is average 10% with a bankroll of 2000 Euros spending 1 hour each day and placing arbs between 2% and 7%. For Live with the same bankroll, the return on investment (ROI) is average 20% or maybe more because there the arbs are usually between 5% and 20%. As you could see it's very complex and it's individual for everyone.
Tips for beginners?
Avoid arbs with more than 10% ROI for PreMatch and 20% for Live. This doesn't mean that the arbs are fake but most often the bookmaker lags some of its odds or offer wrong high odds for the event which leads to big arbs. In such cases, the bet could be void and this way your arb will become negative.
Start with a set of maximum 5 bookmakers - choose wisely your set of bookmakers and make a research for it before funding it with your money. All the bookmakers on our list are requested by arbers but this doesn't mean that they are not tricky and will not limit you or hold your money. But don't forget that even the worst bookies have a way to be handled to avoid these bad situations. It is just not recommended to start with them from the very beginning because you will give up on the starting line after being restricted. You should start with just a few bookmakers also because you will probably have a small bankroll in the beginning and must have enough money to distribute them equally between the bookies.
Bet on popular leagues - most of the regular bettors place bets on popular leagues like England, Germany and etc. Your goal is to look like them.
Round your stakes - don't bet cents. Instead of 50.33 Euros place 50 Euros. No one places cents and this may draw bookmakers' attention.
Start with PreMatch - Live events are very dynamic and it's hard for a newbie to consume all the changing information and blinking odds. Live arbs last for few seconds or minutes and could disappear quickly. Instead of Live, you should consider starting with PreMatch where everything happens slowly and you have more than enough time to place the bets - usually a few minutes and sometimes even hours.
Verify your account - Some of the bookmakers rejects to payout the profit of the users because their documents don't meet its terms and conditions. Make sure your account is verified before funding it with money.
Make long-time withdraws - each withdraws requests bring the attention of the bookie and he is making a review of your bets before confirming the withdraw. Do this as less as possible.
Conclusion - Try to act as a regular bettor. In case you are communicating with the bookmaker, never tell him that you are arber. Not all the bookmakers are arbitrage friendly. There is a very professional made arbs betting course for beginners which goes into deep details about the mentioned points.
Ready to give it a try?